Majoras revenge!!! wrote: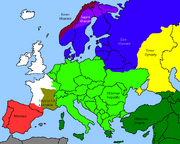 Something like this? (For now, it's called the Sapmi Khanate, after the native name for Lapland)
I know you suggested Denmark or southern sweden, but Wikipedia states their home of Lapland is in arctic far-north Norway, Sweden, Finland, and Murmansk.
It's nice! Only problem in my mind is it's a bit too large and covers too much territory. I know that's basically the distribution of Sami territory irl, but most of that would probably be claimed by the Sibir Khanate. Perhaps the nation is a holdout of Sami culture near the center of their old territory? I dunno, I'd make it a bit less spread out, more Cambodia than Thailand. Maybe centered around the north shore of that northernmost branch of the Baltic Sea?
I know where the traditional Sami homeland is, I just figure they'd probably move or resettle as a result of Sibir colonization. In real life, they started moving south after the Black Plague when Norway and Sweden became depopulated by the disease (the Sami were relatively unaffected by the Black Death due to their lack of trade with infected nations, so hopefully they'd be able to escape the Terrible Death relatively unscathed), so given that in this world, Nordic countries were almost completely emptied, and given that invaders were coming from the northeast, they'd probably move south.
In the long run, though, they'd probably end up being enslaved by the khanate, given that they had a hunter-gatherer lifestyle and didn't have a population base or army able to resist them, and their knowledge of the land would've been useful to the colonists. That doesn't necessarily make a Sami-descended nation an impossibility, though; the Sapmi Khanate could've been a result of a slave revolt. In fact, that period of slavery could've contributed to the hybridization of the two cultures (since yanno, no purely European cultures).