Vienna

General information

Population
4,528,871
Status
Thriving
Role
Capital of Germania

Administration

Local legislature
Proconsular Council of the City of Vienna
Proconsul of Germania
Julius Lenorius
Vienna, known to the local Goths as Wien, is the largest city in the Germania and also serves as the residence city of the Germanian Proconsul.
Administration
Edit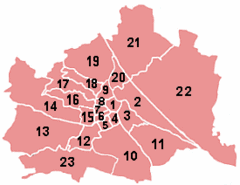 Vienna is divided into 23 suburbia (suburbs), which are each managed by elegentiae, representatives of the Proconsul. The suburbia are:
Vienna Interius
Leopoldstadt
Route de Campagne
Wieden
Margaritae
Mariahilf
Novumae
Vici Josephae
Alsergrund
Amatissimis
Bullientibus
Meidling
Hietziae
Penzing
Rudolf-Fuenfhaus
Ottakring
Caesarisburg
Waehring
Doeblingium
Brigittenium
Floridsanae
Danubium urbe
Liesinburg
Previous incarnations
Background

Roman Imperial Senate • Roman Imperial Armed Forces (Vehicle inventory) • Province Registry of the Roman Empire • Rome • Constitution

Important citizens

Emperor Augustus XV • Emperor Constantine XXII • Emperor Augustus I • Antony Orselius • Empress Anna Maria • Empress Antonina Christina • Antony Marcus • Julius Marcus

Domain

Province Registry • Cities (Rome, Lutetia, Dellium, Lugdunum, Massilia, Quita, Londinium, Lipsia, Dublinium, Tingis, Caesaria, Neanthopolis, Nolis, Augusta, Alexandria, Tollesburg, Botulphi, Vienna, Pontoferrum)

Languages
Community content is available under
CC-BY-SA
unless otherwise noted.